REGULAR GHEE POUCH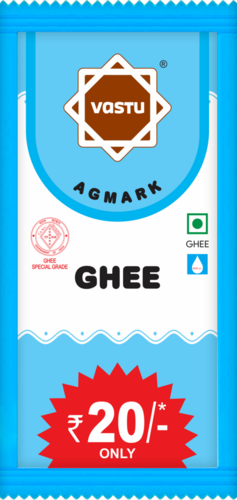 REGULAR GHEE POUCH
Price And Quantity
Product Specifications
20RS. REGULAR GHEE POUCH

Other
9 Months

Adults Baby Children Old-Aged
Product Description
Ghee pouches are packages of pure ghee that are sold in a flexible pouch. These pouches are convenient for storage and can be easily poured into cooking or baking dishes.
FAQs:
Q: Which animal ghee is best?
A: Both types of ghee are helpful for physical and emotional well-being and have a similar measure of fat. Cow ghee is preferable to buffalo ghee. Cow ghee is better as it has carotene vitamin A, which is really great for eye and mind capability
Q: How do you check if Ghee is pure or not?
A: Put a container on medium intensity and let it heat for some time, presently add a teaspoon of ghee to it. In the event that the ghee liquefies right away and becomes a brilliant shade of earthy in variety, it is unadulterated ghee. Assuming it requires investment to liquefy and transforms into light yellow in variety, then it is debased.
Q: Can bacteria grow in ghee?
A:Since there is no water in ghee, microbes will not develop there, so you can skip refrigeration. Ghee ventures well: Take it camping or off the grid